Banner Credits - Band Photo: Tom Upton; Logo: Thom Marchianno                          
                      New! 'Ragin' Against the Dawn' Lyric Video 
                     'Down in Avalon'  video from the album CD   "Time and A River"
 Listen to the  Music of Al Millan and The Robots...
Down in Avalon ... Free Download
              "Tryin' to Get to You" ... Free Download
                "Entomology" ... Free Download 
Greatest Hits and Free Downloads from Al and The Robots...
Al Millan… Welcome to the home of great original rock n rhythm n blues by Al Millan and The Robots, as well as music, legends, truths, and  improbable  accountings from other adventures.                                                              
 Here you will find the stellar blues oriented keyboards of:             "Captain" Kirk Handley; the soulful jazz infused saxophone of the late great "Professor" Trent Kramazs; anchored by the steady inventive bass of Gary Steinmann and the swing n groove rock n dance solid drums of Mark Shilts.  
I have been fortunate to have played with The Robots for over 30 years. We got together in San Luis Obispo CA.  We managed to play and record and ebb and flow all this timeeven as we all followed our own roads around California, and fate took its hand. 
"Come Alive" LP : Hear the first album by Al Millan and The Robots
Al Millan and The Robots ... About the band the music and more!
Newest Album - "Time and A River" is a collection of recordings created by our infamous band of Robots from California.  These songs of Time and A River were dreamed found lost recalled created captured played loved danced to and after many years and perilous journeys, are now provided to you for your listening and dancing pleasure.......
Watch the video "Entomology".....Now on You Tube
.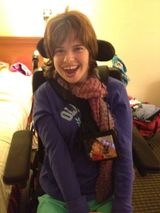 Our daughter Molly was born in 1991, a beautiful little girl with an infectious smile and an engaging love of life. She was also a little girl born with cerebral palsy, which was later identified as a rare mitochondrial disorder. My new life as Molly's father put me on an incredible journey we are still on today. It is a journey that has been filled with difficult challenges and incredible rewards, people, and opportunities. Today she is a social, fun loving beautiful, young woman, who loves music, her family and friends, and being at the beach. Always a teacher, each day she awakens a new understanding of life. To learn more, have a look at The Mission-Resources and Advocacy page.
Her life changed my life....and music still haunts me as it continues to reveal itself ...maybe that's soul protection.
Thanks for checking us out and thanks for listening.  
********************
Here is a song and photo journey for my family and our journey together ~ and just some of the many angels who have helped and guided us along the way ~ an acoustic tune I wrote many moons ago about searching for the Perfect Thing to Say and A Perfect Life to Live.